Namaste. Here is an explanation of what is 
'Transcendental Sound
Meditation'
Since time immemorial, the process of meditating on transcendental sound for inner cultivation has been passed down from meditation masters to their disciples and students.
Transcendental sound meditation is so easy that even a child can do it, yet it is so powerful that one can achieve the highest levels of self-realisation by practising it. Anyone – regardless of age, gender, education, or social or status – can practice it and experience its extraordinary physical, mental, and spiritual benefits.
These benefits are practically endless – from alleviating stress and experiencing inner calm and peace to helping us achieve the highest levels of spiritual enlightenment. Transcendental sound meditation improves our health, our sleep, and our relationships, increases clarity of mind, and improves our ability to make decisions. It also provides an ever-present refuge from the storms of life, acting as our guiding compass, and so much more.
In this modern age with our busy schedules and responsibilities we may think that it's not possible to meditate. But did you know that from the most ancient times, so many people have been practising this method of meditation because it's so easy for anyone and everyone to practise yet it is extremely effective and brings the highest benefit.
This wonderful practice not only helps us reduce our stress accumulated through daily life, but more importantly it frees us from our deepest anxieties and fears allowing us to realise the deep inner peace and spiritual happiness that we all long for.

An Oasis in the Scorching Desert
In this world, we can be compared to weary, thirsty travelers traversing a scorching desert in search of a cool, shady oasis to shelter from the blazing sun and needing to satisfy our burning thirst.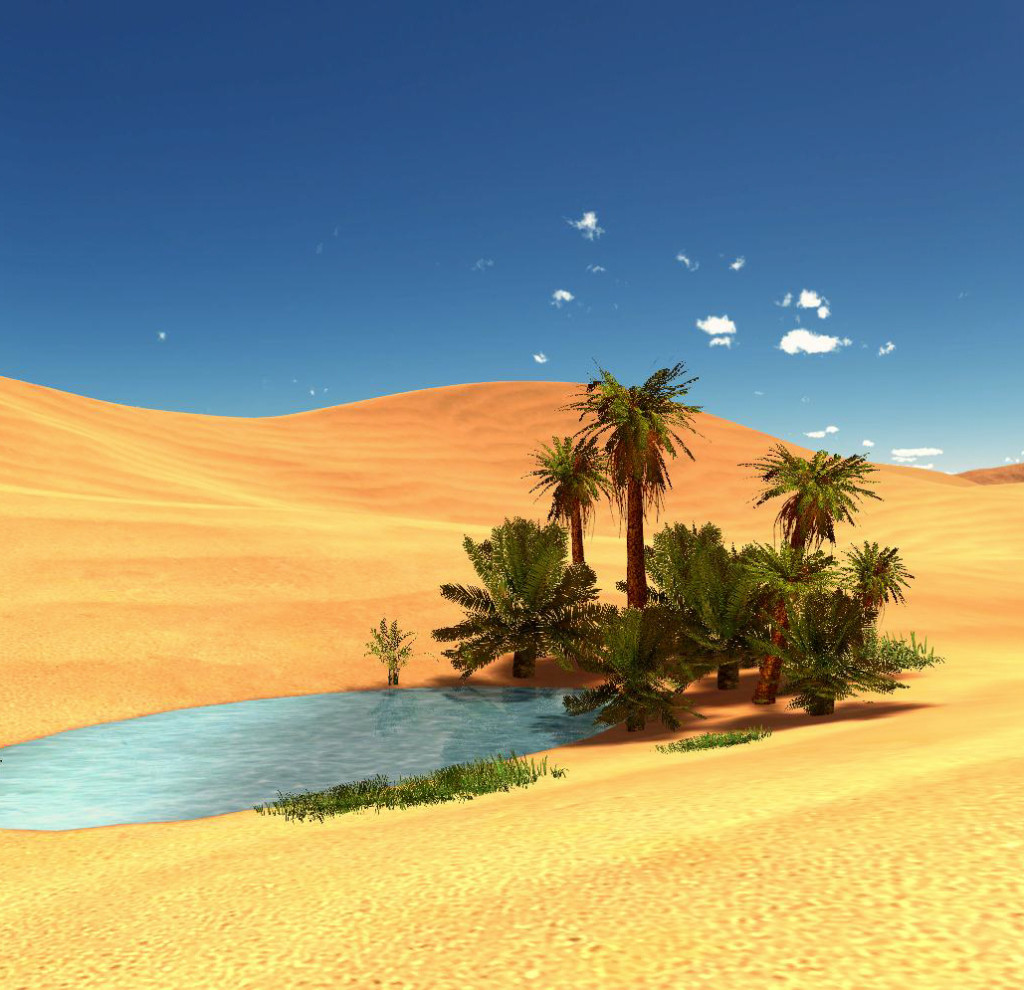 Transcendental sound meditation is the oasis that provides shelter from the pressures, stress, and anxieties of this world. This wonderful practise satisfies our deepest longing and yearning for inner peace and spiritual happiness.
Great meditation masters describe it as a 'deep reservoir of all-satisfying waters'. This is not a reservoir that will dry up or disappear – whenever we are thirsty for inner peace, wisdom, and real happiness, we can drink from its fresh and infinitely deep waters. Furthermore, the more we drink from this reservoir of happiness, the more our longing for happiness, contentment and spiritual love will be fulfilled.
Everyone needs refuge from the stress, anxieties, fear, loneliness, emptiness, and other aspects of life that can overwhelm us in today's hectic world. This meditation will make it easy for you to find that refuge.

Breathing with Transcendental Sound
Many people like to begin their day by practising this meditation program for 10 to 20 mins. It's also very good to practise periodically during the day to refresh and calm your mind and gain valuable insights. They really appreciate knowing how to combine their breath with the transcendental sounds. They find that practising this meditation technique for even just a few minutes helps them to regain their composure when they are feeling anxious or nervous like before exams, interviews business meetings etc.
For example you can repeat the sound 'Gauranga' (Gaur-ra-an-ga) or 'Nitai-Gaur' (Ni-tai-Gaur) or even both, alternating between them.
Sit or lie down in any comfortable position. Begin by inhaling in moderate depth. Not too shallow but also not too deep. Remember don't struggle with your breath. Just breathe comfortably according to your own rhythm.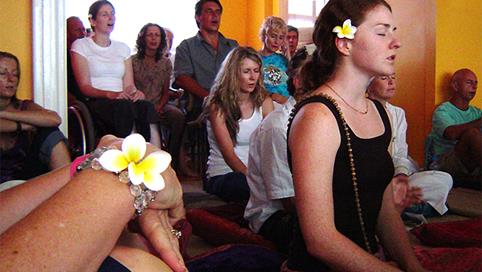 Now become aware of your breath. As you inhale mentally say to yourself, "I'm aware I'm inhaling". As you exhale mentally say to yourself, "I'm aware I'm exhaling".
Focus on the inhaling and exhaling like this for one to two minutes. Then with each exhalation, repeat out aloud, 'Gaur-ra-an-ga' for the length of the exhalation.
Focus your attention on this soothing transcendental sound. Then when you inhale for the length of the inhalation, repeat the sound mentally to yourself, 'Gaur-ra-an-ga'.
Again, with each exhalation say out loud, 'Gaur-ra-an-ga' for the length of that exhalation. With each inhalation mentally say to yourself, 'Gaur-ra-an-ga' for the length of the inhalation.
As you repeat 'Gaur-ra-an-ga' out aloud, listen to the sound carefully as it emanates from your mouth. Feel it vibrate in your throat, your tongue, lips and face as you repeat it. Repeat for 5 mins or so.

Silent Meditation
Generally silent meditation refers to practising listening to the transcendental sounds in your mind only.  We can practise this by completely internalising the transcendental sounds. Just mentally repeat the transcendental sounds at your own speed and whatever comes naturally.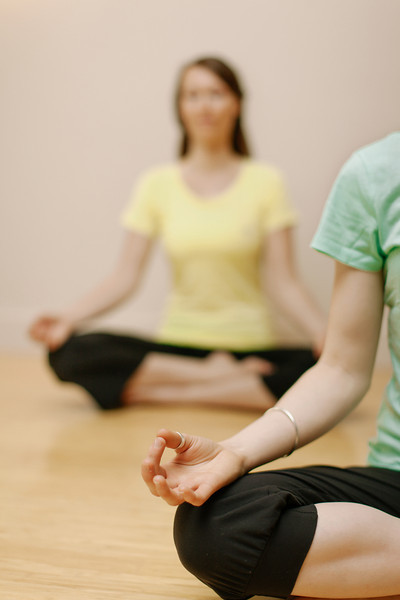 The repetition of the transcendental sound in one's mind should be done in a non-forceful way.
In other words basically imagine you are just associating with the soothing sound much like you would associate with a best friend.
Breathe slowly and naturally throughout the exercise.
Practise this for however long as you feel comfortable.

Japa Meditation
Japa meditation has been taught by self-realised meditation masters since time immemorial. Japa meditation is usually practised using beads to aid our meditation. Practising japa meditation in the morning is like a new start to the day because it gives us a calm, clear mind and a happy heart. It's also wonderful to practise throughout the day whenever we get a chance. Many people like to practise japa meditation while they are commuting to and from work or school.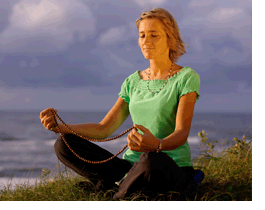 When you start feeling anxious about wasting time, like when you are stuck in traffic or on a long plane or train ride or otherwise with time on your hands,
Japa Meditation is the perfect solution.
At work or at home a lot of people find that if they get overwhelmed during the day or are faced with a difficult decision, even just a five minute Japa Meditation break helps to put everything in perspective and then they can handle the stress and challenges.
For example, one young mother discovered that practising japa meditation while her child was having a nap made it so that she was refreshed and relaxed by the time he was back up and running around!
Basically, Japa Meditation is an individual practice where a person is chanting softly to oneself. This form of meditation has traditionally been performed with the aid of beads but you can use any object suitable for counting or holding.
Here is how we can practise Japa meditation. We can repeat the transcendental sounds or mantra:
'Gopala Govinda Rama Madana-Mohana'.
Traditionally yogis use their right hand and hold the beads with their thumb and middle finger but if you prefer to hold the beads between your thumb and index finger that's also fine. Some people also like to just hold the beads between their fingers whilst others like to roll the beads back and forth. Either way is fine.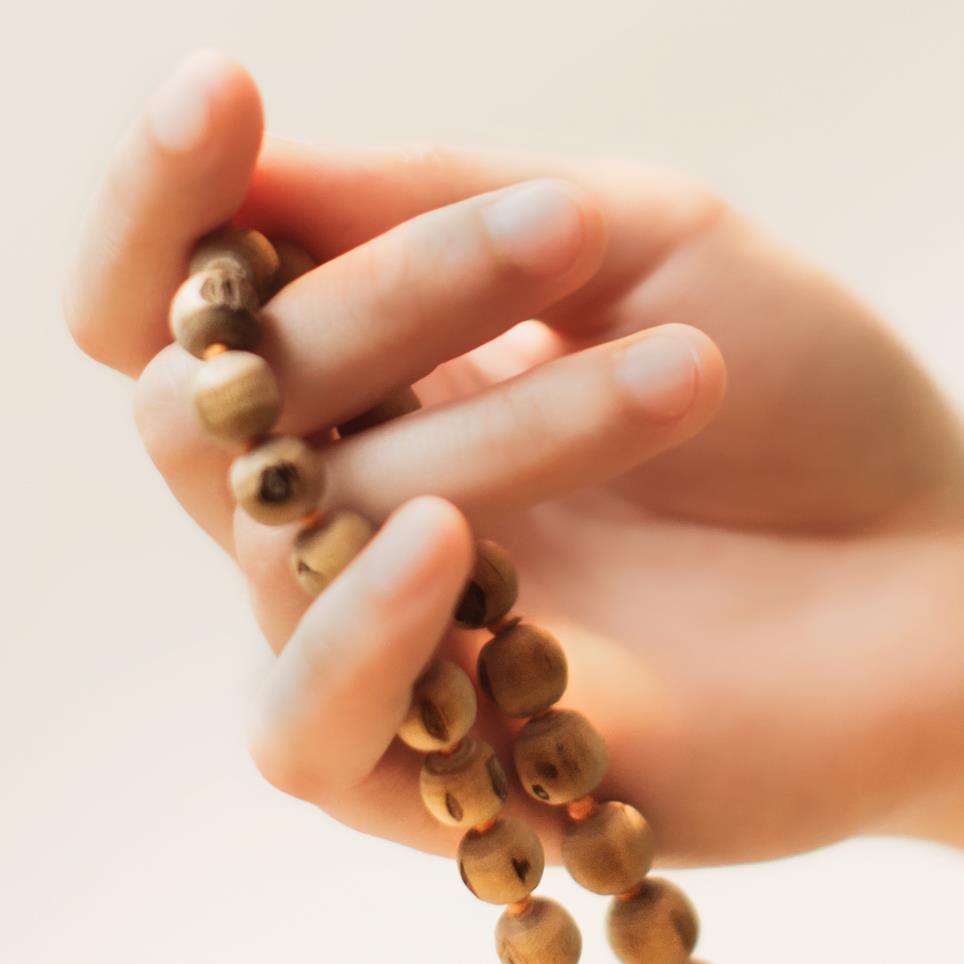 In the beginning, you may want to say the transcendental sound slower than normal until you are comfort-able with this method.
Gradually you can chant faster but not too fast. Say it clearly and softly to yourself.
Loud enough so you can hear each syllable
Begin by holding the bead at the top. This is sometimes called the 'head bead'. Relax. Inhale deeply but not too deep that you are straining.
Slowly exhale and for the length of the exhale say the sound, 'Gaur-ra-an-ga' on the head bead. Focus your attention on the sound. This helps to bring our minds into a relaxed and fulfilled state.
Then move your fingers to the first bead and softly say, 'Gopala Govinda Rama Madana-Mohana'.
Move your fingers to the next bead and again say the Yoga Sound and so on until you reach the head bead again. Say 'Gauranga' again on the head bead and turn and go back the same way you came. In other words, you don't cross over the head bead. You will soon learn how to do this easily!
Japa Meditation can be practised while sitting or walking. For example, many people like to chant on their beads while strolling on the beach or in the park.

Group Meditation (Kirtan)
Ancient Yoga scriptures and self-realized sages have concluded that group transcendental sound meditation is the most effective and beneficial of all meditation practices.
Fortunately, it is also the easiest. As the name suggests, group meditation is when more than one person is practising this meditation together. You can be sitting and practising it softly or you can be clapping and singing and dancing with abandon. It's so relaxing and enjoyable and a lot of fun! It relieves all our stress and brings us a happiness which is difficult to describe.
Group mediation can be practised while sitting or while standing and swaying or dancing. Your eyes may be closed or open.
You can use any types of instruments or no instruments at all. There are no hard and fast rules for how we can perform Group Meditation.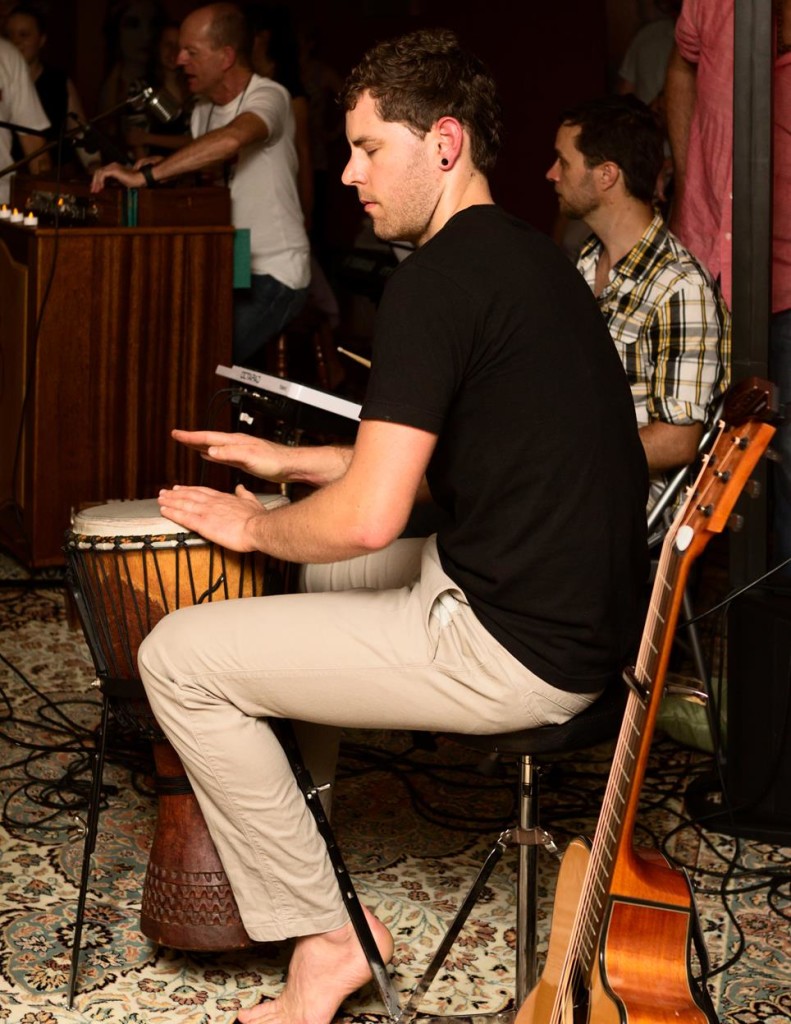 In the beginning some people may feel a little self-conscious when they begin practicing in a group but it usually doesn't take very long for all their concerns to disappear as they relax and enjoy themselves.
Don't worry about what you look like. You also don't have to worry about what you sound like.
The spiritual potency of the transcendental sound has nothing to do with whether it is in tune or out of tune or sung beautifully like a professional singer.
You can just sit comfortably on the ground or in a comfortable chair. If you prefer, you can even lie down or on the other hand, you can stand and sway and dance to the music. Just do whatever feels comfortable.
The process is very simple. Usually we start by just listening to the transcendental sound which is being chanted by the lead chanter. We listen and then respond with the group. We then go back and forth like this for as long as we like. Group meditation is generally done like this. One person leads and the others follow, but sometimes we may chant in unison with no one leading.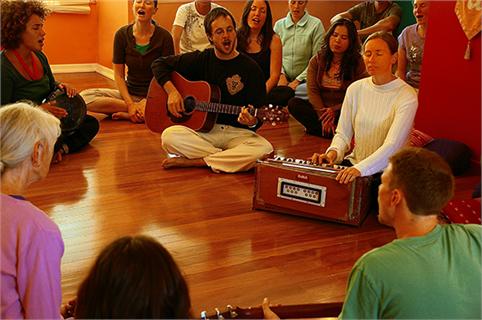 Because kirtan so enjoyable to practise and helps us so much in our daily lives, we like to have regular sessions throughout the week.
Let us know if you'd like to come along to any of the evenings where we can relax, chant, learn more and ask questions.

Here are a few links to some inspiring and enlightening websites that you
might like to visit to learn more about meditation, self-realisation and much more…