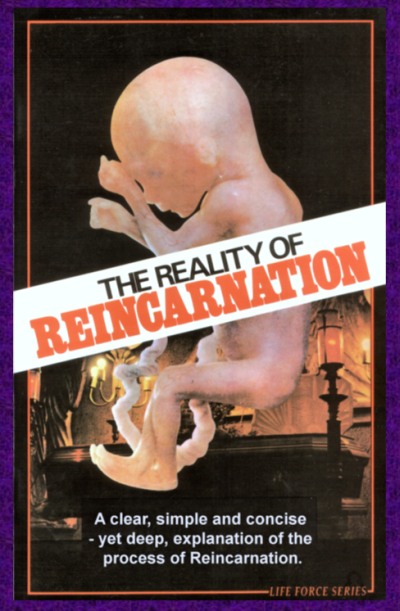 The Reality of Reincarnation
Questions & Answers
---
Question: So many people are becoming interested in reincarnation nowadays. Yet there is very little in-depth understanding of what reincarnation really is. Do you think you could give us a deeper look?
ANSWER: The first thing we have to understand is that when we speak of reincarnation, we are speaking of the person transmigrating from one form of life to another. So the first question we have to ask is, "Who is transmigrating?" Obviously it's not the body transmigrating into another body. So it means that there is something which continues to exist after the death of one body. So the first thing that has to be understood, then, is that the person is not the material body. At death, the person leaves the body, the body starts to decay and everybody who was relating to that person who was in that body starts crying and gets very unhappy, because the person who they were relating to has left. So understanding the science of transmigration of the soul means understanding that the person or living being who was in that body has left that body and, if they're not purified spiritually, will now enter into another gross material body.
QUESTION: So the first thing we have to understand is who we are, that we're not the body?
ANSWER: Yes. That is the first point. If I am not the body made of flesh and blood, the question is, "Who am I?" In the Bhagavad-gita, Krishna answered this question when it was put to Him by Arjuna:
"For the soul there is never birth nor death.
Nor, having once been, does he ever cease to be.
He is unborn, eternal, ever-existing undying and primeval.
He is not slain when the body is slain."
(Bhagavad-gita 2:20)
So from this we can understand that the living being is the soul. That is a person's actual identity.
It is not possible to perceive the soul with these eyes made of matter, but the indication or symptom of the existence of the living being is Consciousness. I'd like to quote a purport by A. C. Bhaktivedanta Swami in this connection. He states:
"Anyone can understand what is spread all over the body: it is Consciousness. Everyone is conscious of the pains and pleasures of the body in part or as a whole. This spreading of consciousness is limited within one's own body. The pains and pleasures of one body are unknown to another."
Therefore, each and every body is the embodiment of an individual soul, and the symptom of the soul's presence is perceived as individual consciousness."
Living entities in lower species of life exhibit less consciousness than those in the highest form of life, the human. So you must clearly understand this point, that you are the living being or soul within the material body. When the body dies, you don't die. The body is like a suit of clothes. When your clothes become old and torn you throw them away, but this doesn't mean that you no longer exist. This truth is also discussed in the Bible, where it is described that the material body is like a house that the soul or person temporarily resides in.
QUESTION: Some people find it really hard to believe in reincarnation.
ANSWER: There is no question of belief. It's not very difficult to understand. It's very scientific. Just try to understand this one simple point, that the body which you have on today is not the same body you had on 10 years ago or 20 years ago. The body dwindles, all the cells die, the molecules change and you have another body and that body is then replaced by another body, all the cells and molecules change. You have another body and so on. So it means that the material particles that are making up your body now are not the same material particles that you had on previously. So there is a substance that has continuity that continues to exist even though your body kept changing. Do you understand this?
QUESTION: Yes.
ANSWER: So if you can understand that the body you have on now isn't the same body you had on 5 years ago, or 8 years ago, then you can understand that you have transmigrated. You have transmigrated from one body to another already in this life. There is no question of believing what's going to happen later.
Just look at what you've already experienced. You can be an atheist, not believe in reincarnation, or whatever. Still you can go and get a picture of the body that you used to be in 10 years ago or 20 years ago or 30 years ago. You can look at that picture and you can understand that although that body in the picture is not the body you have on now, you still exist. You exist but the body that you're looking at in that photograph does not exist. So this is evidence that right now the soul transmigrates from a baby body to a boyhood body to a youth body to an adult body to a middle-aged body to an old body and so on. You have already transmigrated.
QUESTION: Well, what about the mind? A lot of people would say that we're the mind.
ANSWER: The mind is like a body. The mind is actually a subtle material body. Just as the gross material body is always changing, the mind too is in constant flux. You are the witness of the mind.
---
"Who is the person who is
watching the mind change?"
---
For example, you are aware that your mind is changing. Who is the person who is watching the mind change? That's you, the living entity. There is another example by one psychologist, who was explaining that you can tell that we're not the mind by the fact that we can't control the mind. People can't control their minds. This means that there is an entity who is trying to grab onto or control the mind. This is further evidence that you're not the mind, but that there is someone -you – and you are attempting to control your mind.
For example, sometimes your mind starts getting out of hand and you can't control it. It just goes totally crazy. You want to get your mind under control, but you just can't stop thinking about something. You want to stop thinking of something, but you can't. So then you try to control your mind. Or, let's give the example where you try to make your mind blank or you try to make your mind move this way or that way. So the point is, whether you can or can't control your mind, this is evidence that you are the entity who is trying to control the mind as if it's like a horse or something. You are trying to control the horse; you are trying to control something different from yourself. So the fact is you're not the mind. The mind is a subtle body.
QUESTION: How does the mind figure in the process of transmigration of the soul? Does the soul leave free from all contamination and free from all material coverings, gross and subtle?
ANSWER: The soul leaves the gross material body, the gross physical form, but is still covered by the subtle material body – i.e. the material desires and the recordings of the impressions which are made on the mind from past experiences in the previous body. For example, you may have many central experiences. You see a bird, and by your eyes seeing that bird, that impresses on your mind the form of the bird. All of these forms and all of these subtle images and material desires are still covering the soul. In other words, it is the subtle body, the material mind that is still covering the soul. When the soul leaves the gross body, this covering makes it so that the soul takes on another gross material body.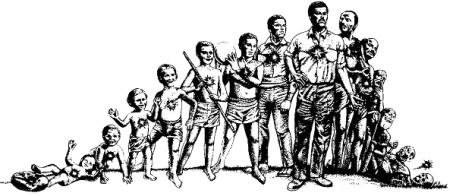 "As the embodied soul continually passes, in this body, from boyhood to youth to old age,
the soul similarly passes into another body at death.
The self-realized soul is not bewildered by such a change." 
(Bhagavad-gita 2:13)
QUESTION: How is that?
ANSWER: The subtle material body is a nucleus around which the gross material body develops.
QUESTION: If the mind is still there when the soul leaves the body – if the soul is still covered by the subtle body, the material mind – then that means I should be able to remember my past lives because I still have the same mind or that information is still there. I am still covered by the mind. So isn't the fact that I can't remember my past lives evidence that there were no past lives?
ANSWER: If that is your logic, then I have to ask you this question: Does a butterfly remember his past life as a caterpillar?
QUESTION: I don't know.
---

"Can anyone deny that the soul has transmigrated from the body of a caterpillar to the body of a butterfly?"

---
ANSWER: Do you remember your birth, the birth of this body that you now have on? Do you have remembrance of the experience of living in the womb?
QUESTION: No.
ANSWER: Yet you know that you were born, right?
QUESTION: So you are saying that just because I can't remember or experience a past life doesn't mean I didn't have one?
ANSWER: Precisely. Our memory is not perfect. That's nature's arrangement. You don't remember birth or being in the womb or your previous life's activities or previous births. Krishna states that for one who is born, death is certain, and that for one who dies, birth is certain.
QUESTION: Is it possible to go back with the help of hypnosis and remember previous lives?
ANSWER: It may be possible. But what is the value of such remembrances? It's good that you want to seek your roots or origin, but remembrance of past lives is not the way. You've had so many bodies since time immemorial, what's the use of remembering one or two lives back? In the ancient Vedas of India, it is said that there are 8,400,000 species of life or different bodies, all the way from tiny microbial creatures to the vast bodies of demigods. Sometimes you may have an animal body or a plant body or a human body or whatever. The intelligent person will not be enamored with the mysticism of it all, but rather will seek a solution to the problem.
QUESTION: There was a film here some time ago called "Audrey Rose" that depicted reincarnation as a kind of eternal joy-ride from one body to the next.
ANSWER: In that case, the movie failed to put forward the real yoga philosophy. By nature, we are sparks of God, eternal, or in other words, continuous. We have no need to be in this finite world of material energy. It's not our natural position. It's not our home. Why should we, who are eternal and blissful by nature, want to remain within the material or carnal world which is by nature transitory and full of sorrow? Incarnation means in the carnal or material body. The body, by nature, suffers birth, disease, old age and death over and over and over again. So the soul should live eternally with God in His abode, free from this repetition of birth and-death.
As the great Chinese sage, Lao Tsu once said:
"The cause of all misery is the material body."
So why should we be anxious to put on another body over and over again?
REINCARNATION &
THE CHRISTIAN CHURCH
QUESTION: What is the earliest mention of reincarnation in the Christian church?
ANSWER: In the third century, a man named Origen, who was one of the founders of the Christian church, stated in his book, On First Principles
"By some inclination towards evil, certain spirit souls come into bodies, first of men; then, through their association with the irrational passions after the allotted span of human life, they are changed into beasts; from which they sink to the level of plants. From this condition they rise again through the same stages and are restored to their heavenly place."
QUESTION: What is that "inclination towards evil"?
ANSWER: The desire to be God; The desire to be the supreme enjoyer or central enjoying agent of God's energy. A soul with even a little desire to be master can't very well stay in the abode of the Lord because there is only one Lord or master. All the rest of us are by nature servants and everyone in the kingdom of God is actually enjoying serving Him. So, if someone doesn't want to serve God, they are placed immediately into the material world. This material world is for those of us who want to imitate God. In the Bible it is stated that God created this world for the enjoyment of man. But actually it's for man's attempted enjoyment. There's no real enjoyment here. We'll be happy and enjoying when we are again resituated in the spiritual sky, the kingdom of God, as His servants. But we don't want that. We want the kingdom of God with ourselves on the throne; with ourselves in the center. We want the kingdom of God without God. As soon as we think, "I shall not serve," immediately God makes it possible for us to not have to see Him. You see, service to God is based on love. It must be voluntary. So the soul, having a degree of independence, can eternally choose to serve or not to serve God and God knows our every feeling and gives us our desire.
QUESTION: Why did the Christian church stop teaching reincarnation?
ANSWER: I don't pretend to know all the details. But I do know that in 553 A.D. Emperor Justinian issued his Anathemas Against Origen:
"If anyone asserts the fabulous pre-existence of souls
and the monstrous restoration which follows from it,
let him be cursed."
Some say Emperor Justinian made the statement because he was motivated by political ambitions. Others say that the masses of people mistakenly thought of reincarnation as a license for sinful activity. They thought, "What am I worried about? I can come back again and again and enjoy eternally." They didn't understand that the material world is a place of misery. Also, they didn't understand the laws of karma—that is, according to your actions, there will be certain reactions, or as Jesus put it,
"As you sow, so shall you reap."
Actually many people do not recognize that it is a problem for the living entity, who is eternal and blissful by nature, to be bound up in the temporary, finite, material dimension, having to undergo repeated birth, diseases, old age and death. This is a suffering condition. Just like one time A. C. Bhaktivedanta Swami was explaining to a group of students at the University of Hawaii that if a person lives like a dog, he'll come back as one. One boy said, "What's wrong with that? It sounds great to me!" Similarly, ex-President Richard Nixon said that if he could choose, he'd come back as a dog!
QUESTION: Does reincarnation wipe out what's known as the "Judgment Day"?
ANSWER: Of course not. In fact, it's precisely because of the judgment that a person enjoys or suffers in the next phase of his existence. The Christians also call it hell and heaven. So the soul will exist for some time in a hellish or heavenly condition according to his karma or past actions. Actually we don't need to look very far to see souls in a hellish condition – hogs, dogs, trees, the lower species of life.
---
'Some souls are in hell to a certain
degree right here and now.'
---
There are so many dimensions of hell and the soul with bad karma exists in one or another of those dimensions in a particular body. Obviously you couldn't exist in hell without a material body, because if you were without a material body, you'd be in the kingdom of God. Some souls are in hell to a certain degree right here and now.
QUESTION: But Christians say that animals don't have souls.
ANSWER: The word "soul" is sometimes used in different ways. When "soul" refers to "living being," obviously an animal has a soul – or more accurately, a soul or living being has on an animal body temporarily. But when "soul" refers to rationality or ability to inquire into the Absolute Truth or to come to a point of perfection, then a plant or animal is without a soul. Why? Because basically, their only interests are eating, sleeping, mating and defending. Their consciousness isn't advanced into inquiring into the Truth. So if the Christian church teaches that this human life is a once only chance in order to make the people serious about developing their love for God now, then this is quite understandable. After all, some people think, "It doesn't matter, I'll have another chance." You may have another chance. But you don't know when. Superficial understanding of reincarnation could definitely lead people into irresponsible living. The human form of life is so rare that we should take advantage of it. It is the take-off point for the kingdom of God. We can get off the wheel of birth and death. But if we neglect to use this opportunity, if we simply live like animals, then why should God again provide us with a human body? If my mentality is like that of an animal, then my next body will be an animal body.
QUESTION: How does that work?
ANSWER: As I mentioned earlier, the mind is the nucleus around which the gross body develops. It's like the gross body is a reflection of our mind. The different types of bodies we see in the material world are simply external manifestations of the different desires or tastes of the different souls.
---
'…the mind is the nucleus around
which the gross body develops.'
---
"The living entity in the material world carries his different conceptions of life
from one body to another as the air carries aromas.
The living entity, thus taking another gross body, obtains a certain type of ear,
tongue, and nose and sense of touch, which are grouped about the mind.
He thus enjoys a particular set of sense objects."
(Bhagavad-gita 15:8,9)
QUESTION: So the physical body a soul has on at any given point in time – whether animal or plant or human – is just a vehicle to carry out the particular desires of the mind?
ANSWER: Exactly. For example, the tongue is a manifestation of the desire to taste and the nose is a manifestation of the desire to smell. But nature has provided different living beings with different types of tongues and noses, according to the particular tastes or desires. The tongue of a pig is specifically suited to facilitate the enjoyment of a certain type of food. The tongue of a cat and that of a human are meant to facilitate the "enjoying" of their respective foodstuffs. So nature provides us with the type of body-senses-according to our mentality or desires.
---

"…..those overly attached to skin-diving, surfing etc., may take birth

as porpoises, sharks or some other kind of fish."

---
QUESTION: So then someone really addicted to surfing, for example, could get a porpoise body?
ANSWER: Yes, or that of a seal or shark – a body which would enable him to surf all day without getting cold or having to come out to eat. Actually, wet suits are a type of thick skin already, almost like seal skin. But not everyone who surfs is an addict. It's a question of attachment.
QUESTION: Sometimes you see people who look like or act just like some particular kind of animal. Does this mean that they are actually turning into that creature?
ANSWER: Yes. How the mind is molded is often reflected in the gross body even in this life. For instance, you may look at a person and think, "My God! That guy looks just like a pig!" Although he has the body of a human being, he actually, for some reason or other, looks just like a pig. Or have you ever noticed that sometimes a person looks like his dog? The person in that body has been developing a certain type of mentality and that mentality is therefore reflected in his gross body. This is seen not only by the spiritualists, but by the materialists as well. I have seen jokes or cartoons about it in the newspapers. How is it so? The answer is given in the Vedas: the person, although in a human body, is shaping his subtle body or mentality like a dog. He is always looking at his dog, thinking of his dog, feeding his dog, thinking of what the dog can enjoy, talking to him, and so on. His love is misdirected to the dog and therefore he is developing the subtle body of a dog.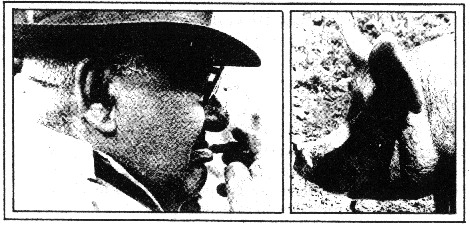 QUESTION: So as long as we have material desires in our mind at the time of death of the gross body, then we'll have to take another body?
ANSWER: Yes. You get what you want. Nature will provide you a body to work out your particular desires.
QUESTION: Some psychologists say that regression to our childhood and even past lives will help a person understand himself and become free of all his hang-ups about different things which are possibly stemming from experiences in past existences.
ANSWER: The mind is like a computer containing hundreds of thousands of impressions not only from this life but from all previous lives. So the idea of the psychologists that they are going to help you get to the root of your problem by taking you back to when you were a baby and your father did something mean to you, making it so you have a hang-up now, is superficial. You have so many past impressions and hang-ups that it is not possible for the psychiatrists to take you back to them all. They may take you back to the primal scream, the pain of birth, but then they have to take you back to the experience of death you had in your previous life, then the primal scream of that life, then the previous primal scream and so on and so on. They don't understand that you have had hundreds of thousands of experiences in innumerable bodies, and innumerable species even. How are they going to take you back ten thousand lives to when you were a maggot and you had a psychological breakdown because you were hungry and your mother wouldn't let you eat some stool? Or your death as a fly when you were swatted, so now you have a phobia about fly-swatters? So there is no use trying to undo all this. It is more practical to try and solve the problems of life by laying down a new set of tracks for a new future, by remembering your real identity as spirit and attempting to re-establish your relationship with God.
Anyway, what is this philosophy that reliving your bad experiences will counteract them? Why do you think that those experiences will be any less painful the second time around? And how will it keep you from having another bad experience tomorrow?
The solution to these miseries is to remember your real identity and your relationship with God. The solution is to aim your senses for the pleasure or service of God rather than your present external material body.
QUESTION: So our attachment to the material world and different types of enjoyment is the cause of reincarnation?
ANSWER: Yes. The point is to develop another attachment: attachment to God. There is no way we can live in this world without eating, sleeping, mating, and defending, or enjoying different material experiences. The point is to develop another activity—namely, self-realization or God- consciousness. Our material needs must be taken care of. But we can simultaneously cultivate what Lord Jesus and Lord Krishna called "loving attachment to God."
If you're attached to the Supreme Lord, automatically you're detached from trying to enjoy the material world and you can live in the world without being of the world. Thus you won't need to take on another body and come back to this world.
 HELL
 QUESTION: Is hell a place or a consciousness?
ANSWER: Although there are particular heavenly and hellish planets which one may take birth on, being in hell does not necessarily mean being born in a particular place. Hell means being away from God. In this sense we can say that animal life, plant life, insect life, etc., are actually hellish species of life. The living entities in these types of bodies are in hell because their consciousness is farther away from God. They still have a material body but because they are less conscious it is hellish. Hell means being in an unnatural suffering condition of life. So whether we accept hell as being a particular place of suffering, or a particular consciousness of suffering, either way we must accept reincarnation.
DESTINY • PREDESTINATION
QUESTION: You speak of our karma as being the cause of our entering into heaven or hell, but in some places in the Bible it appears that it is due to predestination that one gets to go to heaven.
ANSWER: No. Jesus taught, "As you sow, so shall you reap." What part of the Bible do you read? I only read what Jesus taught. Anything that contradicts his teachings, I don't accept. It is due to karma, not predestination. If it were predestined, why did he bother to preach? If it were predestined, there would have been no need for him to come.
You make your own destination by your activities today. You create tomorrow's destiny with today's activities. Similarly, if you have a destiny today, it is due to your acts of the past. In other words, you are aiming a certain way right now due to your past karma. You can say that what you are experiencing is your destiny, but the fact is that you are the one who created it. And what you do today will create your destiny in the future. You are the creator of your own destiny. You have the freedom to serve or not to serve. If you don't serve God, then you create a miserable life – whether it's in the so-called heavenly planets or the hellish planets. If you are engaged in devotional service, however, then you are creating for yourself the destiny of the spiritual world. If you engage in materialistic life in the mode of goodness, you are making for yourself the destiny of going to the heavenly planets, the upper planets of the material world where there is higher material enjoyment -where things are peaceful. If you act under the influence of the modes of passion or ignorance, then you'll go to the suffering material dimensions, the hellish planets. But you are the one who is doing it. It is not predestined.
QUESTION: Can I change my destiny? What I am doing now is what I created for myself previously, and what I'm doing now will create a new destiny for me in the future. So how can I get out of this cycle?
ANSWER: That I have already described. it is very difficult. Practically speaking, you're like a little bug caught in a spider's web. The only way you can get out is if you desire in some way to serve God. It is only by God's causeless mercy that you can get out of the cycle. It is just like when a small creature or a bird is caught in a trap. Only if some person comes along and lets him go can the bird get out of the trap. There is no way he can get out of it by his own strength. Similarly, there is no way you're going to get out of this wheel of birth and death, the wheel of transmigration, without the direct intervention of God.
QUESTION: So why doesn't God intervene and bring all the living entities back to Him?
ANSWER: God does not force Himself on anyone. Spiritual life is based on freedom, so it is completely voluntary. God is always ready to pick up anyone and help them come back to His kingdom, but only if they want Him to. Although He wants all of His children to be back with Him in His kingdom, He only picks up those who actually desire that He pick them up-only those who turn to Him and want to love Him. God isn't the kind of person who is going to force a relationship on someone. The fact is, the relationship is there, but if somebody doesn't want to be aware of that relationship – if they are too proud and they don't want to turn to Him – then He doesn't force Himself on them and make them serve Him. That would be slavery. So the only way the living entities can be delivered from the cycle of birth and death, actions and reactions, is to be saved by God's intervention. And the only way God will directly intervene is if a living entity actually desires it.
QUESTION: Exactly what is the nature of this intervention?
ANSWER: God intervenes by coming Himself or sending His son or representative. When He intervenes and comes to save you, then you can get out. You cannot get out by your own activities, by your own works. You can only get out by placing yourself in the hands of God. So God comes, or He sends His representative, and He gives you information about how to get out. In this way, He saves you. You are stuck in this world of birth and death, and He comes and delivers you. That is why His mercy is called "causeless." For example, there is the story of the hunter and Narada Muni. The hunter was such a bad person that he loved to see the animals suffer. He not only killed them, but he purposely half-killed them just so they would suffer. He liked to see them lying on the forest floor flapping away in agony with arrows stuck in their sides. But by Narada Muni's mercy, that very same hunter became a great lover of God. Narada Muni went out of his way and saved him. He told the hunter, "You are creating a miserable destiny for yourself because you are causing so much pain to those innocent creatures. Sometime in the future you must experience this pain back on yourself. That is your karma." The hunter became concerned and after hearing these words from Narada Muni, he was desirous of changing his destiny. Simply by the association of Narada Muni, a pure devotee of Krishna, the hunter became purified and engaged in devotional service. So in this way, the devotee goes out of his way to help us. God and His representatives go all over the universe, and those persons who want to change, change. He saves them. According to their karma, everyone must remain on the wheel of birth and death, sometimes going to the higher planets, sometimes the lower planets and sometimes the middle planets; sometimes taking on a human body, sometimes an animal body, sometimes a plant body. But the point is that if I have an opportunity to surrender to God, to actually give my life to Him, then that is a chance to stop this cycle. It is a chance to change my destiny. But if I have this chance and I don't take it, then what can be done? It's like if you have an opening, but you don't go for it, you don't take the opportunity, then that is your freedom. You have the freedom to serve or not to serve.
HEAVEN
QUESTION: You speak of the heavenly planets as if they are not desirable, – but wouldn't it be okay to go to the heavenly planets?
ANSWER: If you like, you can go to the heavenly planets.
QUESTION: But would you be free from pain there?
ANSWER: Ultimately, even in the heavenly planets there is still death. No place in the material world is eternal. What's more, you will eventually fall down from the heavenly planets. It's like having a certain amount of gasoline in your tank. Let's say you do 100 good things – well, you have 100 good things in your "tank" to come back to you. But after those 100 good experiences come back to you, then you will have zero again. You will have to fill up your tank again. When you have zero you must leave the heavenly planets and again take birth in a middle planet like earth. Then if you engage in activities which are pious and good, you can again recharge your tank. So ultimately, the pleasure experienced in the heavenly planets is temporary. No place in the material world is eternal. And even if you could remain forever in the heavenly planets, you would not be satisfied. In the heavenly planets you do not enjoy the highest pleasure of the soul, the happiness of rendering loving service to the Supreme Person. In other words, what you might consider heavenly (or "okay," as you put it), a devotee of God would consider hell. Why? Because even though there is not as much suffering and there is so much sense enjoyment, he is not enjoying the Face of God. He is not able to play with Him, he is not able to relate with Him. What you call heaven is simply higher sense enjoyment. The actual spiritual world is when God is there and you are able to relate to Him, play with Him, love Him. Where you are relating to God as your Friend, or as your Beloved, or where you are loving Him as your Child, this is the spiritual world. Such happiness is not known to people in heaven. They may enjoy celestial music, or they may enjoy greater sense gratification, like the enjoyment of sex without having so many problems like you have here on earth, but there is not the happiness of God. So a devotee spits on heaven—he doesn't care for it. Heaven has no attraction for the devotee of God.
The goal of life of those who want to attain the heavenly planets is sense gratification, not devotional service to God. Just like the Jehovah's Witnesses sometimes say, "We want to live here in this world forever." They like this place and their idea is that one day they're going to be "raised up" from the grave and that this world will be theirs forever and they can enjoy here. But if you ask them, "Where is God?" they will say, "Oh, He's enjoying in His own kingdom, but this world is what He has kept aside for us. It is for us to enjoy. But the devotee is thinking: "Fine and dandy: you keep this world. I want to go where He is. I want Him; you want His kingdom." In other words, they want the place but the devotee wants the Person. Their idea of heaven is the place, whereas the devotee's idea of heaven is God, the Supreme Person. Wherever I can remember Him, think of I Him, be with Him, serve Him, then to me that is heaven. That is spiritual life. Spiritual life is different than material life. Material life means you're interested in your own material sense enjoyment, and spiritual life means you're interested in engaging in loving service to the Supreme Personality of Godhead. If you can't serve the Supreme Person, then you have no purpose in life. So whether you're in the heavenly Planets or wherever, it's all empty, it is all void. It is void of any purpose and void of any happiness.
The devotee doesn't care for the happiness of the heavenly planets because he has tasted God. He sees the happiness of love for God and he doesn't care for anything else. Everyone else must go from one body to the next. It is only the devotee, one who is actually attached to the Supreme Person, who transcends the wheel of birth and death. Others are satisfied living in the material world – in the heavenly planets or the hellish planets – so that's what they get. God provides.