"Experience the deeply relaxing and restorative effect of yoga relaxation and meditation.These ancient practices will transport you to a place of pure relaxation of body, heart and mind."
Deep Peace Meditation in Bagshot
---
Enjoy deeply relaxing and rejuvenating meditation sessions in Bagshot, Surrey (GU19 5HB)

All classes are free!
There is never any charge and you don't need to join anything!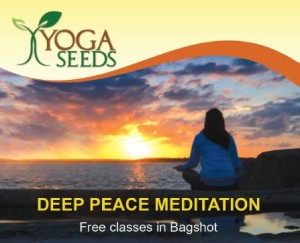 Claudine, a qualified and experienced Yoga teacher, offers these meditation sessions for free. These don't involve any yoga postures etc. but simply give you a chance to completely relax and unwind and learn some effective meditation techniques at the same time!
Fridays: 8 pm
Note: You do 

need to book

for these sessions
Please contact Claudine at:
Tel: 07854 473 111
E-mail: claudine@yogaseeds.co.uk
Website: yogaseeds.co.uk